Michel Che
Prof. Michel Che, University of Paris VI: Pierre et Marie Curie was awarded the prestigious Royal Society of Chemistry's Faraday Lectureship Prize, and received the Faraday medal in a ceremony in Cardiff.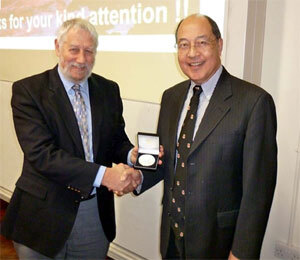 As part of the award Prof. Michel Che was invited to give a series of lectures in the UK.
On Monday 26th January Professor Michel Che of the Universite Pierre et Marie Curie-Paris 6 & Institut Universitaire de France gave his 2014 Faraday Lecture at the School of Chemistry, Cardiff University, UK. The title of his lecture was "Relevance of Geochemistry to the Life of a Catalyst: When Fire Meets Water." After the lecture Professor Che was presented with his Faraday Medal by Professor Graham Hutchings, who is the current president of the Faraday Division of the Royal Society of Chemistry.